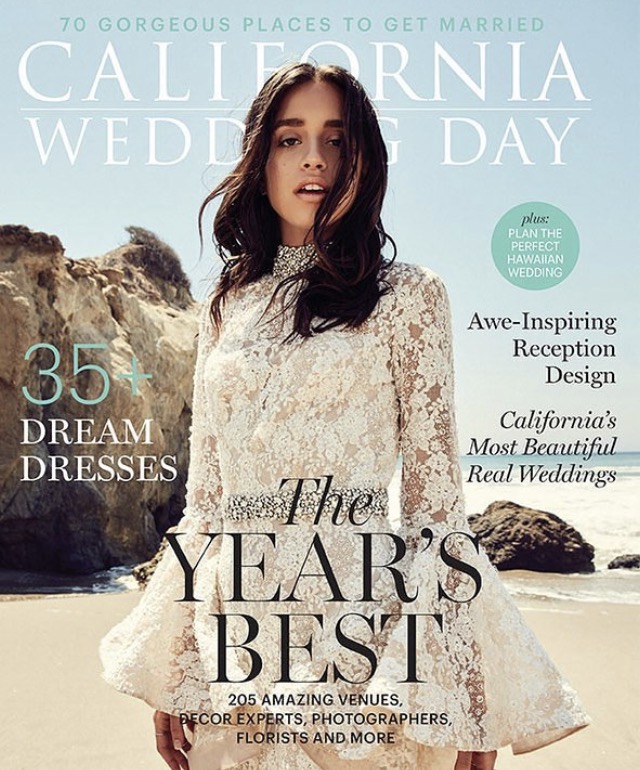 After founding Hollyhock Cakes in Seattle in 1997, Santa Cruz native Aimee Page has returned to her seaside hometown, bringing along her organic, show-stopping wedding cakes and desserts. Serving Santa Cruz and the central coast area, from San Francisco to Silicon Valley to Big Sur, Page handcrafts confections of carefully composed flavors and textures inspired by the seasonal farmers' market.

--California Wedding Day Magazine 2017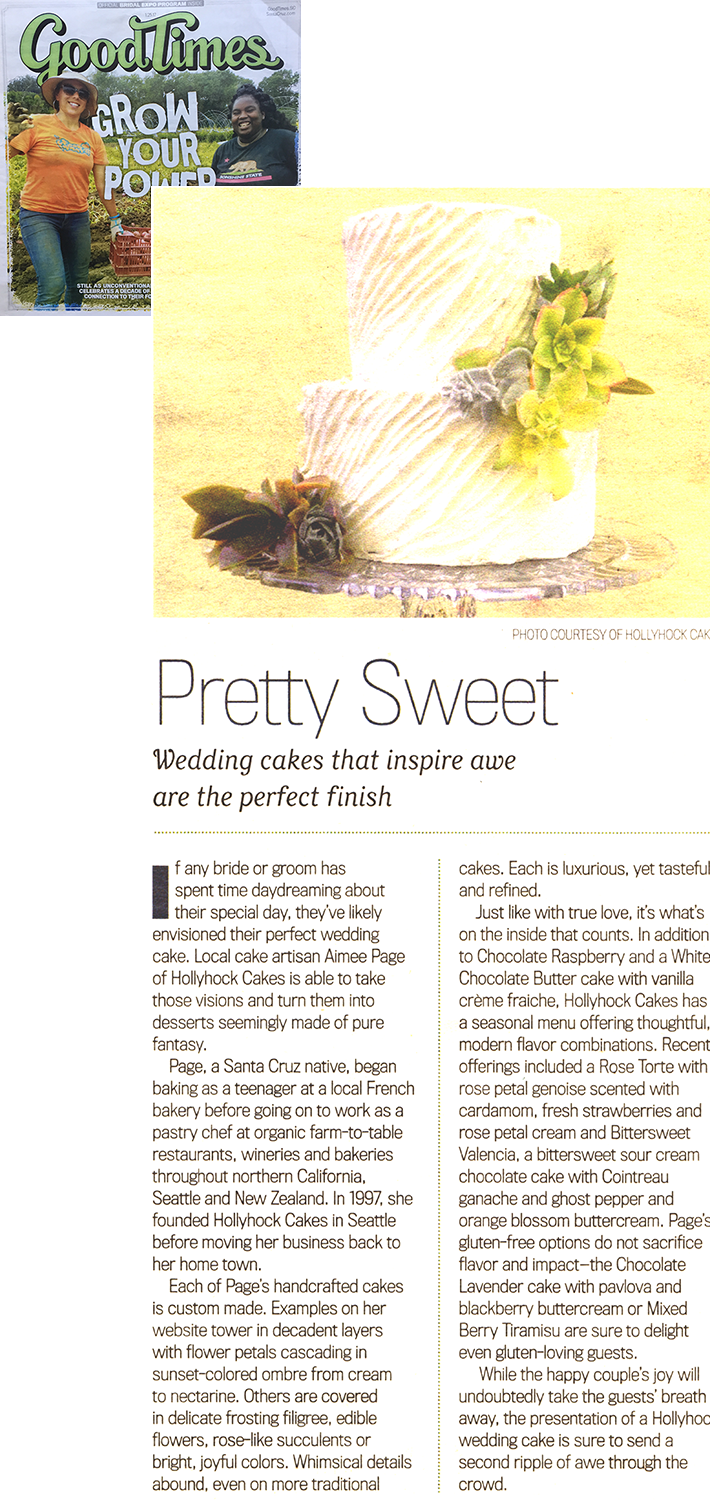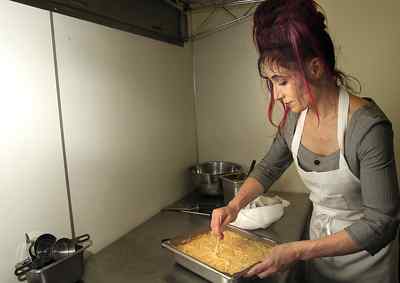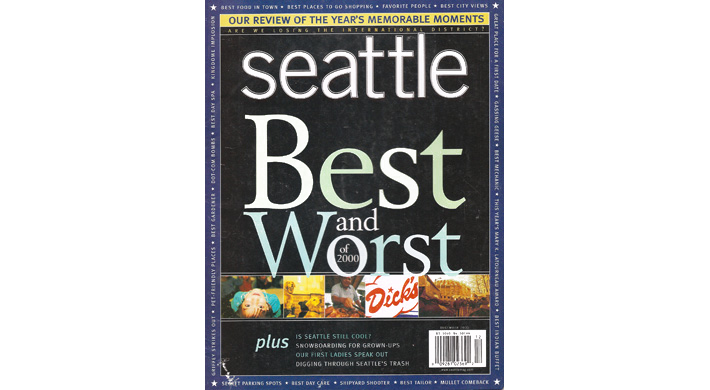 BEST BIRTHDAY CAKES

Birthdays just aren't birthdays without a big old cake and a fire-hazardous number of candles. When she's not swamped in the busy season, Aimee Page of Hollyhock Cakes whips up the most incredible creations in the shape of sunflowers, stacked presents- you name it- all with decadent flavors such as mixed-berry tiramisu and banana. Too beautiful to eat, but somehow we find a way.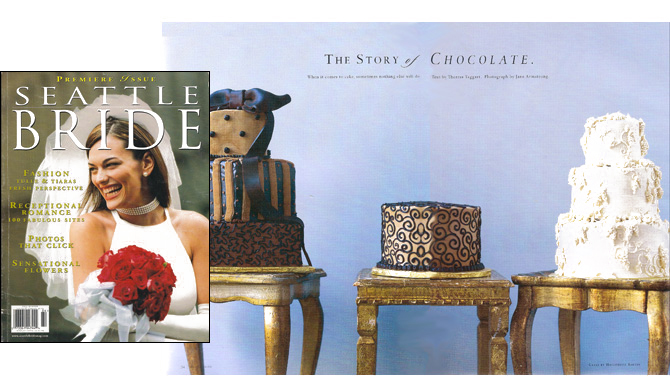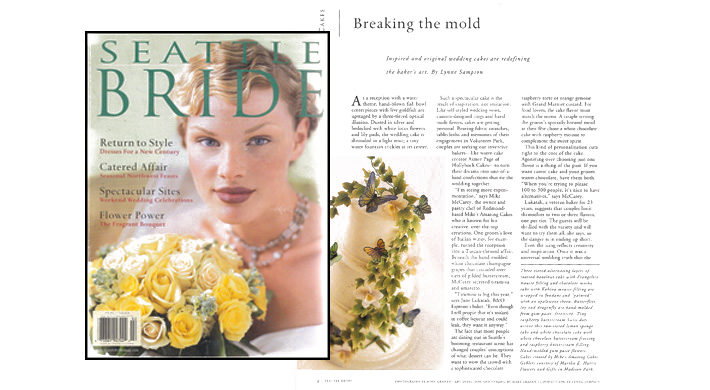 ...couples are seeking out inventive bakers like 'water lily cake' creator Aimee Page of Hollyhock Cakes to turn their dreams into one of a kind confections that tie the wedding together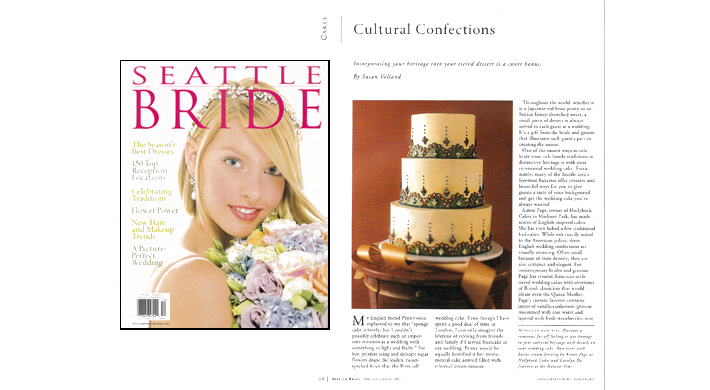 "Cakes of the World is a concept that Page has been pursuing in her recent decorations...Arabic-inspired spice cakes with elaborate tile work, piping and domed tops...."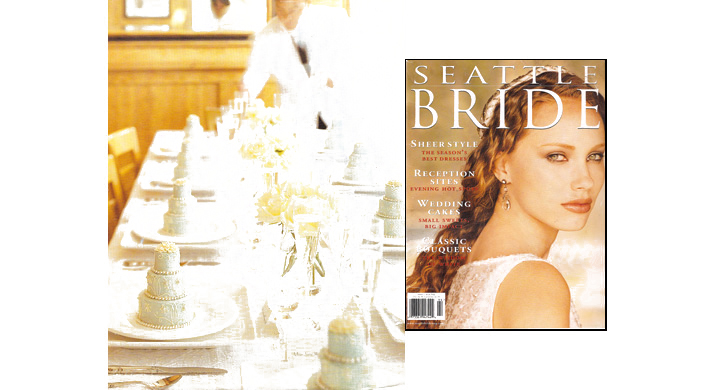 "When you scale down anything that small, detail counts. It's got to be perfect," says Aimee Page of Hollyhock Bakery. "These little cakes are very labor intensive."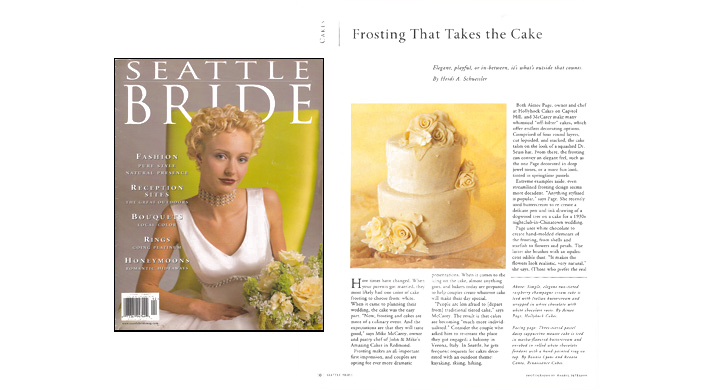 "Page uses an Italian buttercream to create flavors such as orange blossom, white chocolate and rosewater, and espresso-cognac. 'Planning is all part of the wedding process, and the cake should be the fun part!', she says"
...unlike some cake makers who address form before function, she wants her cakes to taste good- superbly good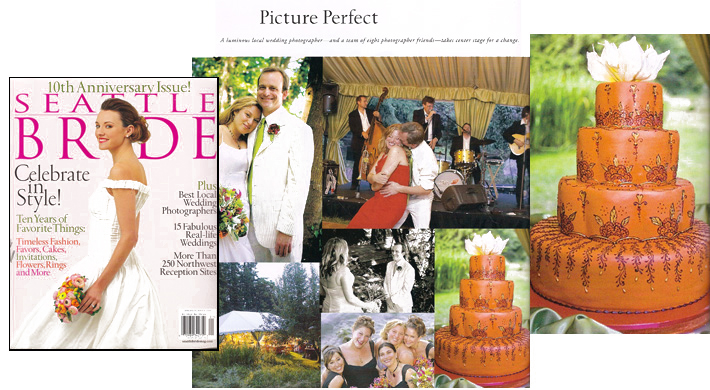 Aztec - chocolate wedding cake with cinnamon, chili pepper and rose by Hollyhock Cakes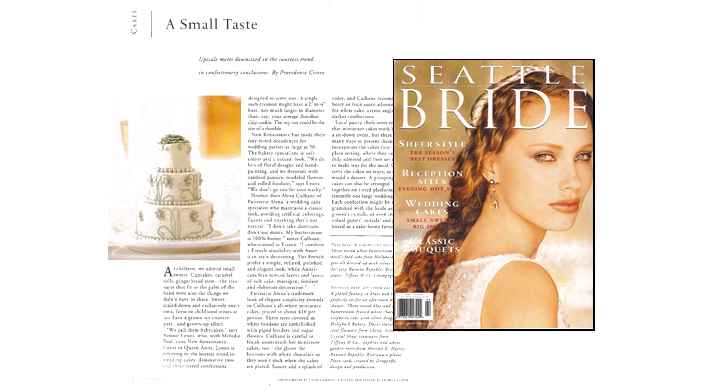 Hazelnut mocha cake with layers of hazelnut genoise, hazelnut dacquoise, Frangelio truffle cream, espresso buttercream, and mixed berry tiramisu cake, covered with pale blue white chocolate fondant and handmade sugar-paste twigs, butterflies and spring flowers.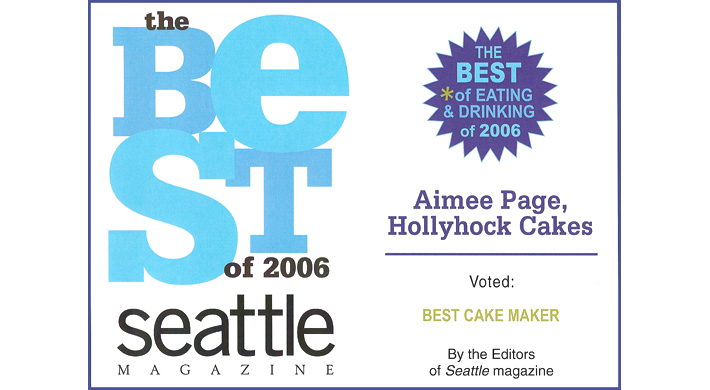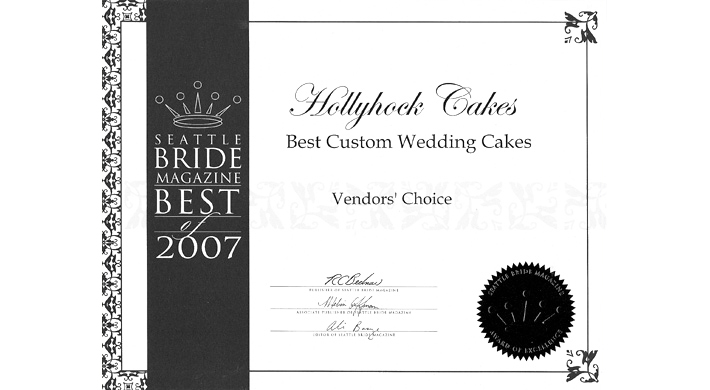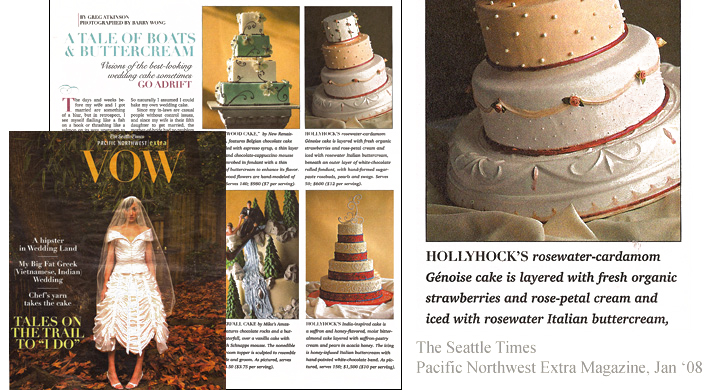 Hollyhock Cake's India inspired cake is saffron and honey-flavored, moist bitter-almond cake with saffron cream and pears in acacia honey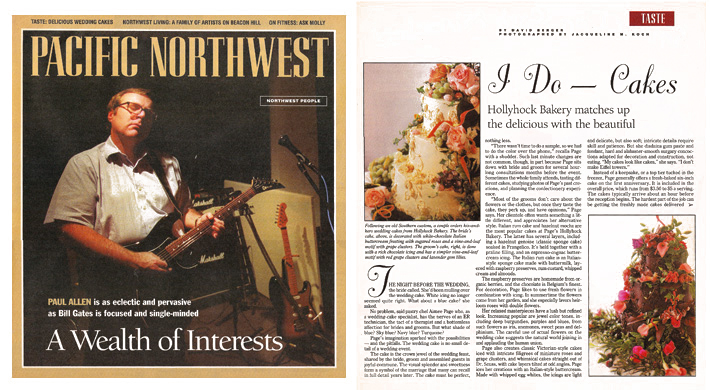 Page likes to use flowers from her garden, and she especially favors heirloom roses with double flowers. Her relaxed masterpieces have a lush but refined look..

Page also creates classic Victorian style cakes iced with filigrees of miniature roses and grape clusters, and whimsical cakes straight out of Dr. Seuss.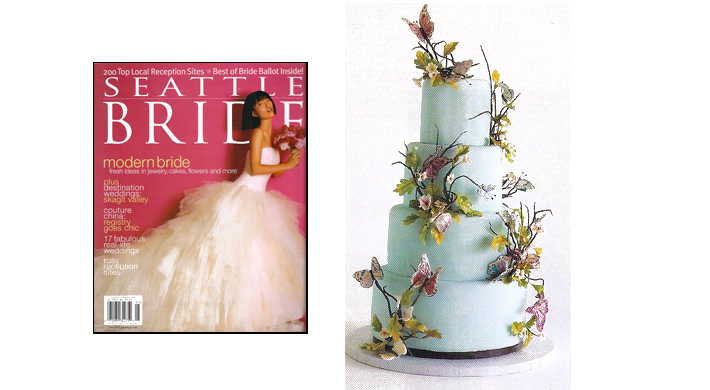 Hazelnut mocha cake with layers of hazelnut genoise, daquoise, espresso buttercream and frangelico ganache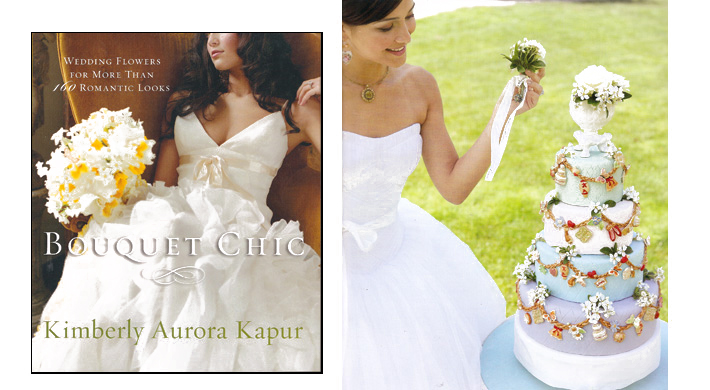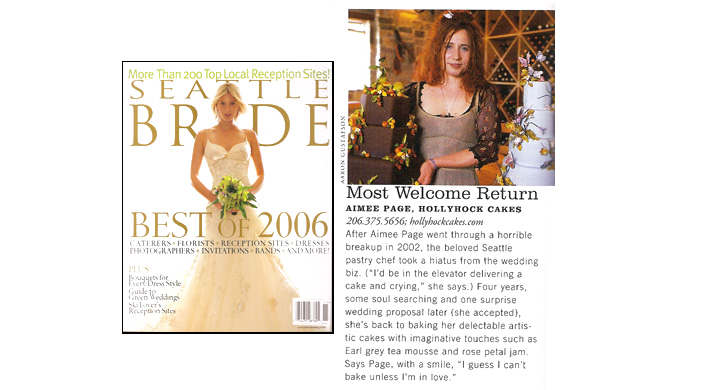 Says Page, with a smile, "I guess I can't bake unless I'm in love"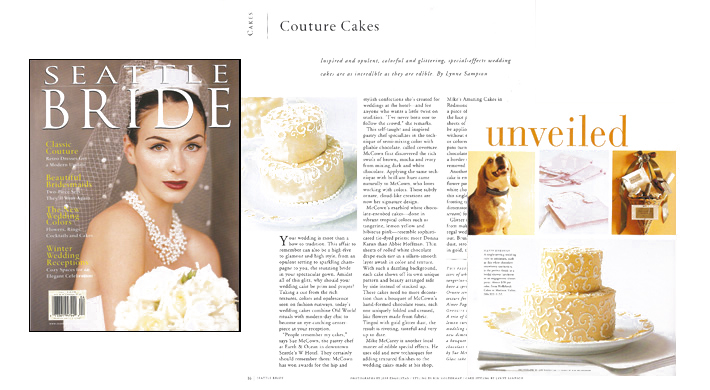 A single serving wedding cake in miniature, such as this white chocolate strawberry confection, is the perfect finish to a bridal shower or engagement dinner party,.... from Hollyhock Cakes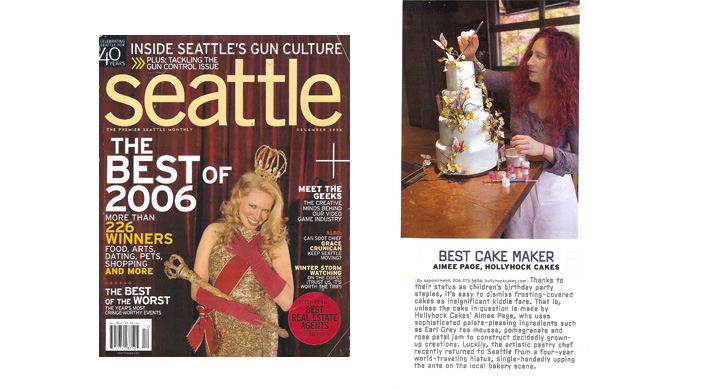 Best Cake Maker - Seattle Magazine
Hollyhock Cakes uses sophisticated palate-pleasing ingredients such as earl grey tea, pomegranate and rose-petal jam to construct decidedly grown up creations.